Annex F (normative) * Reserved melodies for ALARM SIGNALS (Rational)
<![if !supportLists]>ü <![endif]>The following melodies are reserved for the meanings as indicated in Table F.1 and Table F.2. See also 6.3.3.1.
Table F.1 – * Equipment encoded auditory ALARM SIGNALS categorized by ALARM CONDITION and priority complying with Table 3 and Table 4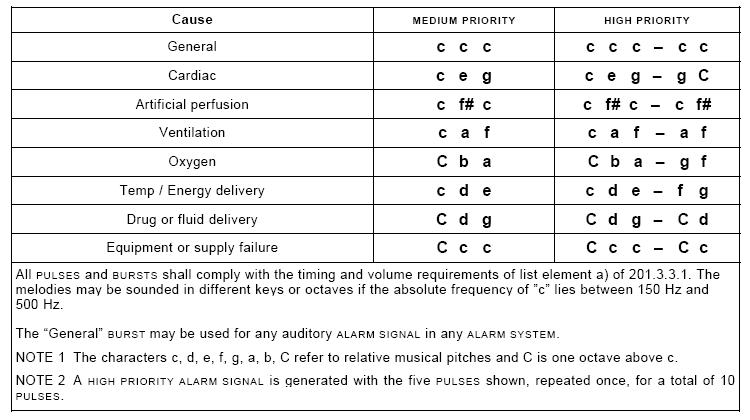 צלילים שמצאתי בגוגל http://www.usyd.edu.au/anaes/alarms/
 האם 201.3.3.1 זהו 6.3.3.1?
מאמר שמצאתי ברשת http://bja.oxfordjournals.org/cgi/content/full/97/1/12
לא ראיתי כאן אפיון של הטונים במצב תזכורת לאחר כיבוי זמני. האם המבנה הטונאלי זהה? ואם כן, האם זה ראוי?
Table F.2 – * Auditory LOW PRIORITY ALARM SIGNAL complying with Table 3 and Table 4